Involvement of NIPH Laboratory Staff in the response to COVID-19 Outbreak in Cambodia
NIPH   March 18, 2020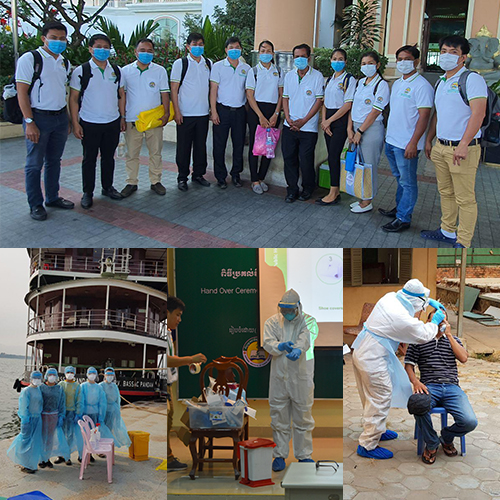 Since January 17th, 2020, when the first case of COVID-19 was confirmed in Cambodia, National Institute of Public Health (NIPH) collaborated with the Department for Disease Control and other Health Departments under the directory of Ministry of Health (MoH) and Provincial Health departments, have worked together with WHO, US-CDC, Institute Pasteur du Cambodge (IPC) to respond quickly to this global outbreak.
One of the main roles of NIPH is the National Reference Laboratory (NRL), which provides training to laboratory staffs around the country. At this urgent response, NRL provided training to support Rapid Respond Team (RRT), lab technicians and medical doctors on how to wear a proper Personal Protective Equipment (PPE) and how to collect a quality specimen based on the Standard Operation Pro­cedure (SOP) and guidelines that complied to international standard ISO 15 189.
Moreover, NRL staff are trained and are competent to offer support at the national and sub-national levels where the outbreak occurs. As the matter of fact, NRL has played a leading role in collecting samples from passengers of the Westerdam cruise ship in Phnom Penh at Sokha hotel, samples of suspected cases in Siem Reap, and more recently in Kampong Cham on Viking River Cruise ship. Currently, NRL is preparing to perform coronavirus testing in their lab.
All NIPH staff are committed to contribute as much as they could to support MoH to protect Cambodian people from the pandemic of COVID-19.
Information about the local Cambodian COVID-19 situation can be found through the Ministry of Health's Facebook page https://www.facebook.com/MinistryofHealthofCambodia