Is this a lull before the storm? [Phnom Penh Post article]
NIPH   May 07, 2020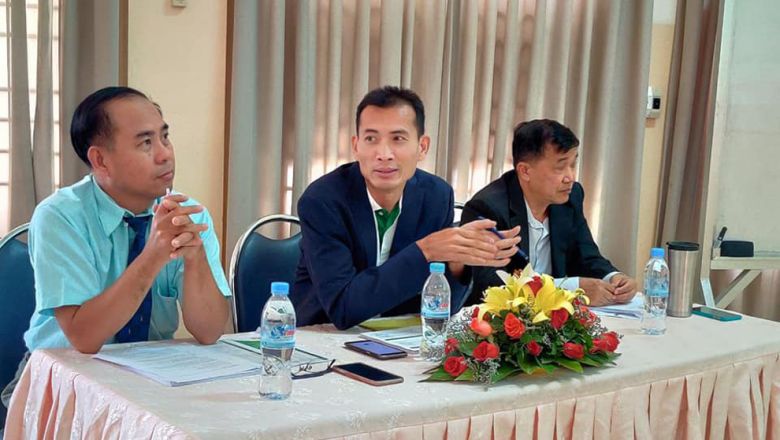 Source: Phnom Penh Post, Sangeetha Amarthalingam | Publication date 07 May 2020 | 22:21 ICT
While most countries are in various stages of the Covid-19 pandemic, Cambodia has had no new cases in over three weeks. But the Kingdom is holding its breath in preparation for what is to come if it comes, as the continuous negative test results are no guarantee that Cambodia is off the hook
Twenty-seven days. That is the number of days of zero Covid-19 positive cases reported in Cambodia.
To date, 122 people have been diagnosed with the novel coronavirus disease, 120 have recovered and two more remain in Kampong Chhnang and Banteay Meanchey provincial hospitals.
On May 4, Ministry of Health data showed one suspected case but confirmation on its status has yet to be made.
The authorities are also following up on 10 contacts who travelled on the same flight with a Cambodian student who was tested positive for Covid-19 while on transit in South Korea. The contacts continued their journey back to Cambodia and were quarantined for 14 days upon arrival.
Fortunately, there have been no fatalities, thus far.
With no new cases recently, the Cambodian situation has rallied curiosity. More so because neither travel restrictions nor closures of high-risk centres were instituted till later, despite exposure to foreign tourists and Chinese nationals who had travelled to China and back.
Even test results on a fraction of 90,000 Cambodian migrant workers to Thailand who flooded back to the Kingdom in the middle of last month returned negative.
The same negative outcome was recorded following tests on a small number of 30,000 factory workers who flouted the travel ban during the Khmer New Year in April to return to their provinces for the celebration.
The ministry, which has formed nearly 3,000 rapid response teams comprising officers from the medical and public health services, and the Communicable Disease Control Department, claims to have remarkable on-ground intelligence to sniff out people with Covid-19 symptoms in communes throughout the Kingdom.
"The teams are able to find suspected cases based on good feedback and surveillance by the authorities and local networks. They have a very good system going," said World Health Organisation country representative Dr Li Ailan.
However, Cambodia tests only those with symptoms, unlike Vietnam and South Korea which managed to contain the spread of the new coronavirus through mass testing.
As of May 7, 2020, some 12,929 tests had been conducted, averaging 795 persons per one million population, ministry data showed.
The total test figure most likely includes re-tests, which negates the actual number of the population tested. Attempts for confirmation with ministry spokesman Ly Sovann went unanswered.
Still, the confirmed numbers might be small to derive any conclusion for now, said a general practitioner based in Australia after looking at the Covid-19 figures here.
"Because, unless the Cambodian government tests hundreds of thousand of their residents for Covid-19, we will not know the real numbers of positive cases," said Dr Deelan Vaz whose surgery in Perth, Western Australia has actively referred numerous patients with Covid-19 symptoms for tests.
Back home, the ministry has repeatedly said it has adequate test kits to last till September under three risk scenarios – low, medium and high.
When checked, it was learnt that the ministry only has 30,000 test kits in its inventory. Granted, it aims to beef up its medical arsenal with a $30 million allocation as well as an $800 million to $2 billion fiscal stimulus plan.
But the issue of the global shortage of test kits and swabs has been daunting.
Having said that, and regardless of reporting style, Cambodia has managed to keep its numbers down at around seven confirmed cases per one million population, data on worldometers.info/coronavirus showed. This has placed it among Vietnam (271 cases) and Laos (19 cases) which rank low on confirmed cases and zero deaths in Southeast Asia.
In contrast, country-specific data as of May 7, 2020, revealed that Thailand had 2,992 confirmed cases, 2,772 recoveries and 55 deaths, whereas Malaysia registered 6,467 positive infections, 4,776 recoveries and 107 deaths.
Around the world, Covid-19 cases totalled 3.8 million with 265,668 deaths. Some 1.3 million have recovered.
Five clusters, two unresolved
Predictions are that the Kingdom will possibly experience a substantial Covid-19 outbreak because of the "extremely" large number of mainland Chinese tourists, business travellers and residents in the country.
Till late February, 25 direct flights per day arrived from 21 Chinese cities in Cambodia. Although the Kingdom did not ban Chinese flights, the Chinese government suspended flights to and from Wuhan on January 23.
The novel coronavirus outbreak in Wuhan was first detected in early January before it spread within weeks to other parts of China, and progressively to other parts of the world within a month.
In Cambodia, it is believed that a certain number of Chinese nationals who went back to China for the Lunar New Year made it back to the Kingdom before the Chinese borders closed for travel.
The first case in Cambodia was reported on January 27 when a 40-year-old Chinese national who came from China, was diagnosed with Covid-19 in Sihanoukville.
Since then, the Kingdom has recorded five clusters with a spike in early March. As of May 5, there has been a 98 per cent recovery rate but health officials continue to warn that the outbreak remains at an "alarming level" in Cambodia.
It explains the sinister feel in the air – the impending fear of a second wave which could be triggered by community transmissions, shifting from the present predominant classification of "sporadic via imported cases".
"Because the high transmission is ongoing in other countries, importation of cases is risky to us, which can trigger a second wave," Health Minister Mam Bun Heng said.
The five clusters consist of participants of a Muslim gathering in Malaysia, Viking river cruise holidaymakers, French travellers in Sihanoukville, Diamond Island partygoers, and Star City Karaoke (Poi Pet) workers.
Of the 122 cases, 51 are Cambodians, 39 are French, Malaysians (13), British (five), Chinese (three), Vietnamese (three), American (two), Indonesian (two), Canadian (two), Belgian (one), Swedish (one), and Congolese (one).
Three of the clusters are resolved as contact tracing and tests showed negative results. The remaining clusters - Muslim gathering and Star City are unresolved as two patients while in stable condition, continue to undergo tests.
At this juncture, it should be noted that two or three contacts of Phnom Penh's Diamond Island cluster tested positive upon arrival in China in April. Owing to the fact that they were tested in China, the numbers were not reflected in Cambodia to avoid duplicity in its reporting.
Within Cambodia though, six to seven persons including an infant linked to the cluster tested positive but have since been discharged from hospital.
What makes Cambodia special?
Nearly 42 per cent of the confirmed cases are Cambodians and nearly half of that were those linked to the Muslim gathering in Malaysia. The rest were sporadic.
Although there is no absolute scientific data to back evidence of low morbidity levels, experts suggest several reasons why that could be the case including the nation's unique disposition of not having been exposed to many viruses.
For instance, a cooler temperature range of 5C to 11C might play a role in the propagation of the new coronavirus, as deemed by the international coalition of medical virologists – Global Virus Network.
This might be a stretch but Cambodia's tropical climatic conditions with temperatures ranging between 21C and 35C could reduce the propensity of a robust spread of Covid-19.
"We are debating whether the weather and lack of exposure to viruses and bacteria have some effect on the probability of transmission.
"That might explain why immunity is high or why Cambodians do not show severe symptoms," opined National Institute of Public Health (NIPH) director Prof Dr Chhea Chhorvann.
Of course, other hypotheses explain this predicament.
An article, "Why are Indians having lower incidence of infections and deaths due to Covid-19 virus?" by Mumbai-based Shalby Hospital's precision oncology and research department director Purvish Parikh and three others, published in the Indian Journal of Medical Sciences in March, cited three "stakeholders" in any infection. They consist of the infective agent, the human host, and the environment, in which it can proliferate outside the host.
Past experiences indicate that such viruses undergo rapid mutation and several variants are generally circulated in different geographical regions. At least two strains had been reported in China.
"The human host in Covid-19 pandemics seems to behave differently in various geographies [with respect to incidence and mortality].
"While China reported an overall mortality of 5.8 per cent among its infected patients in Wuhan, it was significantly lower [1.5 per cent] for South Korea [which did extensive testing] and 10.6 per cent in Italy, the highest figure so far.
"Some of these differences could be attributed to the criteria used to report Covid-19 deaths [some countries do not report deaths due to Covid-19 if the patient had any other comorbidities]" the writers noted.
The article questioned whether differences in adaptive immunity between developing countries and the Western world could be behind the lower mortality in India and Asian countries in general.
It pointed out that viral ribonucleic acid (RNA) associated with malaria plasmodium (malaria parasite) may have sensitised the immune system in people living in malaria-endemic areas.
"This might have conferred protection due to pre-existing immunity, which protects a significant number of people in countries like India from serious consequences of Covid-19 exposure," it said.
Perhaps a correlation could be drawn to Cambodia where malaria transmission is endemic in 21 out of 25 provinces with more than half the population (about 8.6 million people) still at risk.
Although the number of cases (both confirmed and clinically diagnosed) fell to 56,271 cases in 2014 from 113,855 cases in 2004, it indicates the prevalence of the mosquito-borne virus in rural provinces. According to the Malaria Elimination Action Framework (2016-2020), Cambodia aims to be malaria-free by 2025.
NIPH's Chhea did not entirely dismiss the hypothesis relating to the antibody immunisation from malaria as well as the Bacille Calmette-Guérin (BCG) vaccine that is used against tuberculosis and leprosy when asked to comment on the Indian article that touched on an ongoing study to document the effect of BCG vaccination in mitigating Covid-19 exposure.
The writers also suggested that some evidence from the study could serve to protect those who received it through the T cell-mediated immunity pathway.
Chhea acknowledged that there was high exposure to immunisation such as BCG vaccination in Cambodia, which started during his generation in the 1970s.
"The virus is very new, so scientists [are still learning] about its nature. Our immunity might be fighting against the virus but the hypothesis [on BCG vaccine] has not been proven so far," he conceded.
Relatively low population density
Cambodia has a population of 15.3 million people as of March 3, 2019, according to a census by the National Institute of Statistics (NIS). Of the figure, the central plains have the most number of people at 7.5 million, with Phnom Penh hosting 2.1 million of them.Some 2.3 million people live in Kandal and Prey Veng provinces, NIS data showed.
The Tonle Sap is the second most populated region where some 4.8 million people or 31.4 per cent of Cambodians live, The rest of the population is spread out in the remaining part of the country, which is largely rural.
The country's relatively low population density may be one factor that has protected it from an outbreak, indicated an infectious disease expert at the US Naval Advanced Medical Research Unit-2 based in Cambodia.
The hypothesis, made in an internal US Embassy in Cambodia document sighted by The Post, noted that only 20 per cent of the population lived in urban areas and that the population density, which is about 212 people per square mile (2.9 sq km), ranked 118th in the world.
"Even in Phnom Penh, Cambodia's capital and most densely populated city, there are only 8,120 people per square mile, considerably lower than cities like Bangkok (13,700) and Jakarta (40,400)," the expert said.
The expert also cited the apparent lack of modern infrastructure and relatively few large-scale, enclosed public gathering places, as well as few shopping malls with centralised air conditioning that has the potential of circulating respiratory droplets as possible reasons for the low transmission rate.
"While Phnom Penh has some public buses, it does not have a network of trains or subways that force people into crowded, enclosed spaces.
"Instead of modern mass transportation, the majority of Cambodians often rely on motorcycles and small open-air vehicles [tuk-tuks] with constant air circulation that hampers transmission of the virus," the expert wrote.
New strains, a new dimension
So far, seeing the number of confirmed cases, tests conducted and the complacency adopted by Cambodians, a second wave perpetuated by community transmission could happen.
The ministry's apprehension is apparent in the continued closure of schools, entertainment outlets and gyms, and the repeated warnings to people to remain vigilant, and practice social distancing and good hygiene.
"Until now, we are still able to respond to the need for tests and have controlled the situation well. At the same time, we have also expanded the criteria to test those with 37.5C temperature [if they show Covid-19 symptoms] in order to cover more areas," said Chhea.
But he too acknowledged the perplexing predicament of zero cases for over three weeks.
"We're trying to ensure that testing is not [about] having no cases but rather identifying the right clusters. We need to learn from Singapore, so we don't miss out any clusters or sub-groups.
"There are five clusters now. Maybe there are sub-groups that we [may have] missed. We might have traced every case but we are afraid that somehow, somewhere, someone is infected and stays in a closed cluster and we have not reached them yet," Chhea said.
In a pandemic situation, the infection can potentially spread throughout the population.
"Looking at the chart in Cambodia since March, it is possible that some countries including Cambodia is waiting for another outbreak in a few weeks," said Dr Vaz.
If that does not happen, then once international travel resumes, it will open another dimension to the pandemic.
"One important result of that will be that dif