Job Announcement: Laboratory Quality Management System (LQMS) assistant supporting ISO 15189 implementation at NCHADS Laboratory (2 staff)
NIPH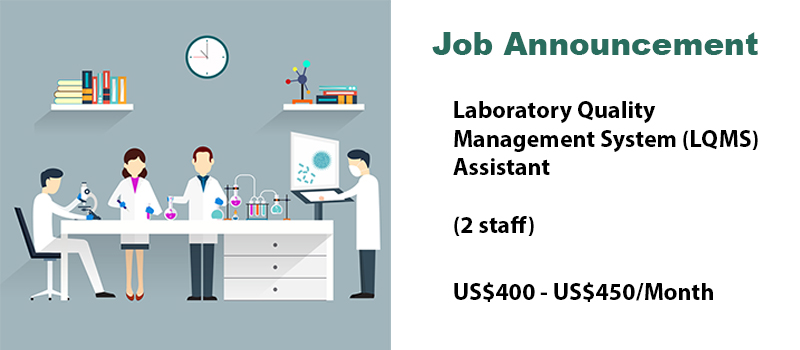 Position: Laboratory Quality Management System (LQMS) assistant supporting ISO 15189 implementation at NCHADS Laboratory (2 staff)
Project Title: Project "Support National Institute of Public Health's plans to provide South-to-South ISO 15189 Technical Assistance to NCHADS Laboratory"
Budget line: 1- QMS assistant supporting ISO implementation in NCHADS
2- QMS assistant supporting and facilitating training in NCHADS
Salary: 400-450US$/Month
Duty Station: Phnom Penh
Duration: 12months (Possibility to renew)

Background:
National Public Health Laboratory (NPHL), one of the bureaus under National Institute of Public Health (NIPH) is a national reference laboratory assigned by Cambodia Ministry of Health. NPHL provides Out Patient Department (OPD), Hematology, Biochemistry, Immunology, Virology, Microbiology services and Quality Assurance. NPHL received ISO 15189 accreditation in Feb 28, 2019 from Institute for Quality Management in Healthcare (IQMH), Canada. In addition, The NPHL has implemented laboratory improvement through the laboratory quality management system (LQMS) training program in several provincial laboratories.
After getting experience of ISO15189 accreditation, NPHL will provide technical assistant to NCHADS laboratory to achieve ISO15189 accreditation in the next two years.
Due to high demand of quality improvement of ISO Accreditation implementation, NIPH-US CDC Cooperative Agreement, is looking for a LQMS Assistant to support the implementation at NCHADS laboratory activities to obtain ISO 15189.

Qualifications:
- Bachelor degree in science related fields, Medical Laboratory Technologist, or Technician Associate degree
- At least one year working experience in clinical or public health laboratory
- Knowledge of quality laboratory standards and laboratory quality
management system
- English proficiency (writing, speaking, translating)

Tasks/responsibilities:
- Assist the quality management team of NPHL and NCHADS Lab to ensure that
all requirements based on ISO 15189 are fully met and updated, these
include but not limited to monitor complete documentation of equipment
maintenance, of temperature logs sheets, of QC logs, and Levy-Jennings
charts per standard operating procedures(SOP) of NPHL and NCHADS
laboratory
- Assist and effectively coordinate between NPHL and NCHADS, and US CDC
team regarding the pertinent meetings, trainings, and preparing all relevant
reports.
- Assist quality manager and lab manager to prepare all required
administrative work, and project work plans.
- Assist quality management team to prepare and perform NCHADS laboratory
and NPHL Laboratory internal audits/assessments.
- Work on other duties as assigned by the NPHL chief.
- Make regular reports and/or presentations to the NPHL and NCHADS quality
manager, and NPHL chief.

Other requirements:
- Willing to learn new technical and non-technical skills and share knowledge
with teammates
- Fluent in spoken and written English
- Skilled in Microsoft Office, Excel and other basic data analysis software
- Willing to travel to provinces for short periods
- Good communication skills with colleagues, stakeholders, and partners

Interested candidates are requested to submit their CV and a cover letter to: Mr. Dy Dimanche at dimanche_dy@niph.org.kh , contact: 011 707 052.
The deadline of this application is on 14 September 2019. Only shortlisted candidates willbe contacted.