Job Announcement: Finance and Accounting Technical Assistant
NIPH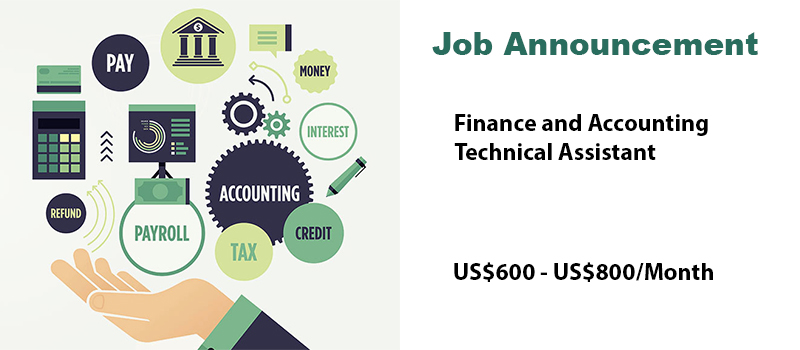 National Institute of Public Health
Job Announcement
Position: Finance and Accounting Technical Assistant
Hours: Full time
Salary: (600US$- 800US$/Month)
Duty Station: Phnom Penh
Duration: One year with possible extension, starting as soon as possible
Background
The National Institute of Public Health (NIPH) is a semi-autonomous public institute, with a broad public health mandate. The NIPH mandate consists of three main functions. First, it serves as the national reference laboratory. Second, its technical bureau provides the Ministry of Health (MOH) with evidence-based advice in various fields, based on health policy and systems research. Finally, it provides public health training, including MPH and MSc programs in Epidemiology, Nutrition, Hospital Administration, and Community Health and Development.
NIPH in collaboration with the Institute of Tropical Medicine Antwerp (ITM) received 5-year grant from the Belgian government to support NIPH capacity building. NIPH capacity in planning and managing research, in particular financial planning, management and accounting, has been found to be limited. Further improvement in this capacity will ensure effective implementation of research projects and resulting best research outcomes. Therefore, NIPH is looking for a full-time Finance and Accounting Technical Assistant to help improve NIPH capacity in planning and managing research projects.
Scope of Work
The successful candidate will work closely with NIPH accounting and financial management team under the direct supervision of Head of Accounting Bureau. Basically, s/he will assist NIPH research project management, accounting and finance team to perform the following tasks:
Set up adequate financial controls to maintain propriety and proper accountability of expenditures;
Ensure that the financial transactions be properly authorized, recorded with adequate supporting documents, filed, maintained and easily extracted for reporting and auditing purposes;
Monitor budgets and expenditures and contribute to preparation of budget revision;
Prepare project financial reports, statement and submit to Project Director for clearance and NIPH as required;
Establish a computer-based monitoring system for expenditures
Check and ensure that all procurement process and expenditures of the projects be in line with the NIPH and donors' financial regulations and procedures, including using correct budget lines;
Provide and interpret financial information;
Liaise with auditors to ensure annual monitoring is carried out;
Develop external relationships with appropriate contacts, e.g. auditors, solicitors and bankers
Carry out any financial tasks
related to organization of conferences, workshops, and training; and other financial assignments as requested by the Project Director.
Requirements & qualification
A Bachelor's degree in accounting or related field. Higher level qualification in related field is a plus
At least 3 years relevant work experience in accounting and financial management. Experience with donor funded projects, in particular Belgian and EU funded project(s) will be an added advantage
Sound knowledge and understanding of accounting theory, concepts and principles, combined with proven practical skills in financial and cost accounting reporting, business planning, work programming, budgeting, financial management and audit, with ability to understand different financial reports and ledgers;
Demonstrated experience in procurement and preparation of financial reports and budget variance analysis;
Strong communication skills (in English), both written and oral
Strong problem solving, conceptual, and analytical skills;
Good interpersonal skills;
Experience using financial software and MS Office applications is a must;
Ability to work under pressure; flexibility in handling a number of concurrent assignments, including project management skills.
Interested candidates are requested to submit a CV along together with a cover letter to NIPH director, Prof Chhea Chhorvann, by email to lsereyraksmey@niph.org.kh or at the National Institute of Public Health (Lot #80, Samdach Penn Nouth Blvd, Khan Toul Kork, Phnom Penh, Cambodia) before 06 December 2019. For further information, please contact to Miss Long Sereyraksmey through the above email or phone no. 012 266 015. Only short-listed candidates will be contacted for further interview.